Traveling, in general, rolls so many of those brain healthy activities together — being social, learning new things, moving outside your comfort zones, exploring your own limits.   Add to that photography, physical activity, and a purpose and you have a recipe for an amazing brain boosting adventure.  
My husband and I did just that when we went on a perspective changing volunteer vacation.  Our objective was to collect scientific data about the 2nd largest reef in the world — the Barrier Reef in Belize.   The result was a trip of a lifetime with more than one "coolest experience ever"….
How about adding a game to the mix? Here are some of my favorite photos from that trip turned into Find the Difference puzzles.  Can you find the differences in these photo sets? 
Click the photo set to see a larger version!  Short descriptions below each photo set as well.
These 2 men are about to see the coolest thing that either has ever seen…the "string of pearls" in the Caribbean Sea.  Indescribably awe-inspiring.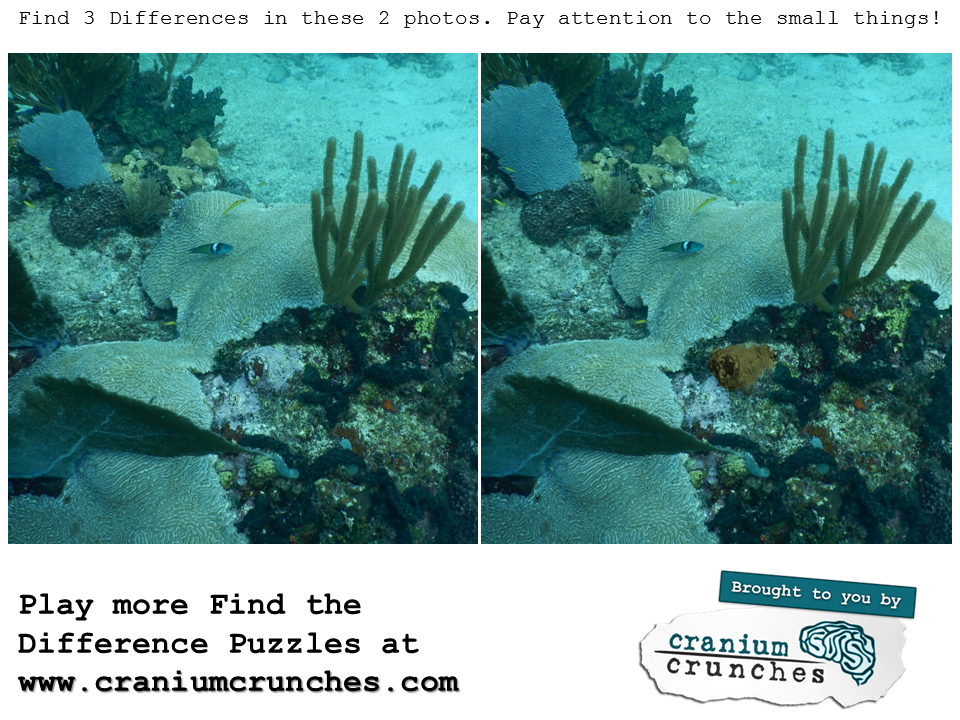 So much tiny life on each square inch of the reef. Be sure to look for the small details.
This photo was taken about 40 feet under the surface on the world's second largest reef! ReefCI leads amazing reef conservation trips for "citizen scientists". Find 3 differences in this photo set.
Amazing trip to Eladio Pop's Cacao farm in the Toledo district in Belize. Pretty sure that Eladio is one of the top 5 coolest people we have ever met.   To learn more about Eladio's farm scroll to the bottom of this link:  http://www.cottontreelodge.com/belize-tours/chocolate-tours.htm Thanks for playing!
https://timetoplay.com/wp-content/uploads/2019/02/TIME-TO-PLAY-LOGO-resources.png
0
0
Ruth Curran
https://timetoplay.com/wp-content/uploads/2019/02/TIME-TO-PLAY-LOGO-resources.png
Ruth Curran
2014-06-06 15:11:42
2014-06-06 15:11:42
Playing and Travel Are Good for Your Brain